GlobalWafers implement environment, health and safety management system (ISO 14001:2015/ISO 45001:2018) covers all activities, products and services. We actively enforce to improve the performance of EHS to ensure the effectiveness management system of EHS.
Protection Measures for Working Environment and Personal Safety
GlobalWafers committed to provide a safe, healthy and comfortable working environment. To build a safe working environment, other than complies with the relevant local safety and health regulations, GlobalWafers also works on reviewing, auditing, communicating, educating and training to all colleagues to raise the awareness of safety, health management. Also, we timely take appropriate corrective measures to achieve continuous improvement to protect the safety and health of employees, contract workers and related third parties as well as create a sustainable business environment.
All staffs shall keep health physical and mental status, as well as good sanity.

 Through 5S execution

 No smoking, betel nuts and liquor in factory

 Smoking is only allowed in smoking area and no littering cigarette butts.

 Wear protection when handling hazardous materials.

 Mark hazardous materials and no breakage.

 Set qualified dispensers in factory and regularly exams.

 Disinfect whole factory annually

 Keep great toilet ventilation

 Full observation of 6S

 No spitting, littering cigarette butts and trash

Follow protocol and SOP in every work

Don't be abrupt when facing no SOP work. One should carefully apply other SOPs or discuss




with leaders before execute.

Workers and inspectors should wear helmet with fasten strings when working at over 2 meters




heights or falling objects.

Use safe rope when working in open areas with over 2 meters heights.

Set up "danger" signs when power outage. Signs can only be removed when all problems are




cleared and employees are off the spot.

Wear personal protections according to different stations. Any danger should be reported immediately.

No chasing, running or anything dangerous while working.

Following instruments and equipment limitations
As a good corporate citizen, GlobalWafers Co.,Ltd. should naturally fulfill its social duty, respect human rights and continue to observe the issues of conflict minerals*; therefore, we perform thorough investigations on our suppliers, to make sure metals like tin (Sn), tantalum (Ta), tungsten (W) and gold (Au) were not mined from the Congo and its neighboring countries controlled by said armed groups, and work together with our suppliers through responsible procurement.
We do not to purchase conflict minerals from mines in the Conflict Regions.

We demand our suppliers and its suppliers not to purchase and use conflict minerals from conflict areas in the Congo.
For each citizen's fulfilling responsibility, GlobalWafers Co.,Ltd. aggressively involve into green purchasing, require suppliers must follow below principles:
The supplied goods comply with government laws both domestically and abroad (such as RoHS, REACH and WEEE and so on) of the environmental protection product.

Prior to purchase the office affairs, computer facilities, electronic equipments with Green Mark (i.e. Energy Saving, Water Saving, Green Building Materials) which announced by official authorities to protect the environment.

Suppliers shall reveal the third party impartial unit test report to assure as without the use of hazardous substances when necessary.
 GlobalWafers cooperates with a huge number of contractors in an effort to spur the industry development. We have formulated clearly defined contractor management guidelines to safeguard the health and safety of our partners and fulfill our pledge to provide a safe and healthy work environment.
When signing contracts with contractors, we request that they comply with OSH related laws and regulations and abide by relevant requirements of the company regardingpersonnel qualifications, construction work, machine tools and materials, and safety equipment. Accident occurrence rates are minimized through a series of management measures including pre-contracting and pre-construction hazard notices, construction application management by responsible units, access controls for contractors, management of construction operations, and post-construction verification in addition to sporadic on-site audits by health and safety management personnel in plant areas.
The physical health of employees is a key factor for the maintenance of work-life balance. Exceeding legal requirements, GlobalWafers has hired general practitioners to provide free on-site services including health consultation, guidance and assessment, as well as follow-up tracking health issues, referrals and medical services. In addition, GlobalWafers is firmly committed to the three pillars of maternal care, prevention of ergonomic hazards and prevention of burnout. The company safeguards the physical and mental health of our staff members through a wide range of health care initiatives, sporadic health talks, and health promotion activities in an effort to create a blissful and healthy work environment.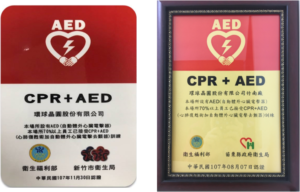 To ensure workplace environmental safety, starting from 2018, there have been installations of 24-hour Automated External Defibrillators (AED) inside the factories and arranged for 70% factory employees to attend CPR + AED education training so as to equip them with basic first-aid capabilities which can thus be applied on the site of incidents in a bid to construct a workplace conducive to employees health and safety. We are honored with the special safe workplace certification of safe workplace by the Ministry of Health and Welfare.
Energy Policy
GlobalWafers, a professional silicon wafer manufacturer, not only devotes itself to improving process, quality and service, but also pursues a sustainable future. GlobalWafers acts actively with stakeholders such as employees, customers, suppliers and general publics to reduce environmental impacts and aims to be a benchmark of environmental protection in the industry.
In order to fulfill corporate social responsibility and achieve sustainable  operation , GlobalWafers follows the principles of raising energy efficiency and promoting energy saving and carries out the projects of energy review, reduces energy intensity and cost, improves energy  performance and enhances market competitiveness.
GlobalWafers is committed to accomplishing the following:
  Obeying the laws of energy and other relevant requirements.
Energy saving and carbon dioxide reduction
  Practicing energy saving measures and reducing the emission of greenhouse gas.
Energy-efficient product procurement:
  Purchasing equipment with high energy-efficiency and low environmental impact.
Continuous reviewing to improve energy performance and improve energy  management system performance.
Providing essential information and resources to achieve the goal of energy saving and fulfill the corporate social responsibility.