Message from the Chairperson
2020 is surely an unforgettable year for the entire world. The spread of COVID-19, the national border lock-downs, and the dance of life and death all occurred in a blink of an eye. During these turbulent times, we gained a profound understanding that societies are not composed of mere individuals, but by densely intertwined network of groups. The darker the hour, the brighter the brilliance of goodness shines. In addition to improving operational performance, GlobalWafers further realizes that it can use the strength of the enterprise to take care of its employees and their families in every way possible.
During the epidemic period, GlobalWafers has actively kept abreast of the latest information, conducted risk assessments, formulated countermeasures, strengthened epidemic prevention efforts, implemented employee health monitoring, strengthened health advocation, provided real-time epidemic information from different countries, arranged for employees to work in shifts, and reduced the number of people gathered at confined spaces in order to establish a comprehensive epidemic prevention and health network for each employee.

Although GlobalWafers' headquarter is in Taiwan where the epidemic is relatively less severe, many of our overseas subsidiaries are located in Asia, Europe, and the Americas where the epidemic is quite severe. We have mobilized emergency supplies by taking full advantages of our group network and transport channels, shared our epidemic fighting experience and practices, and donated an ambulance to the Red Cross (Italian branch) at the epicenter of the epidemic. Even if countries have closed their borders to control the spread of COVID-19, we still hope to deliver warmth and care that cannot be stopped by border lockdowns.

In terms of environmental sustainability, GlobalWafers adheres to the principle of "responsible growth." The goal is to achieve a balance between economic development and the natural environment while increasing profits, and improve the production process to reduce waste output while pursuing product innovations. By promoting green products and green production through process design and technology improvement, we can reduce raw material and resource consumption, lower pollution emissions form the source, decrease operating costs, and minimize the impact on the environment. In addition, we have also monitored and measured high-energy consumption equipment, proposed action improvement plans, regularly tracked the improvement measure performances, and promoted energy conservation internally in order to achieve continuous improvement, conserve energy, reduce carbon production, lower power consumption, and improve energy efficiency.
Our efforts and achievements include:

In terms of social care, GlobalWafers encourages employees to show care, give back what they can, interact with the society, help the disadvantaged groups, and fulfill corporate social responsibilities.
In Taiwan, we have actively participated in the remote area dream realization project, sponsored various social welfare activities held by disadvantaged children and public welfare organizations, and practiced the "taken from society, give back to society" corporate citizenship concept. We have also arranged a series of environmental protection activities to turn publicity slogans into actual practice. The goal is to plant small green seeds in the hearts of colleagues, cultivate thanksgiving from the heart, and turn them into new opportunities to readjust their attitudes towards life.
Our actions of care include: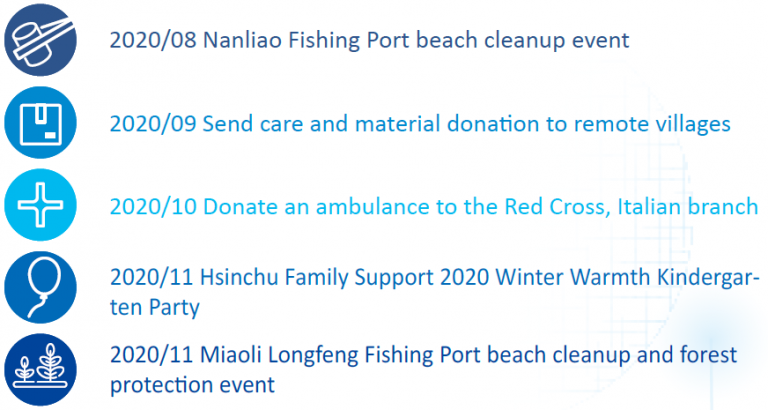 In addition to the external contributions, we also focus on the cultivation of sincerity. 
GlobalWafers is a big family with bases all over the world, and many of its bases at home and abroad have profound cultural heritage. Through intimate cooperations, colleagues can ignite different sparks of wonderful and diverse perspectives. Despite coming from different countries, we share the same core values – People, Integrity, Passion, Excellence, and Innovation. We firmly believe that by adhering to the people-first principle, maintain honesty and integrity, devote enthusiasm to life and work, and make unremitting efforts; we will naturally outperform the competitors. The different horizon level will also bring an endless source of creativity, which will eventually transform into innovative technologies that can change the future.
For GlobalWafers, our customers are our most precious partners. Our vision is to be the preferred partner in your technology journey. We hope to become your preferred partner throughout the endless journey of knowledge and innovation. Our mission statement is "one global family committed to providing sustainable solutions for the semiconductor industry." Our goal is to provide customers with green and sustainable solutions via the concerted efforts from our global bases. 
Global Family, Global Solutions! This is our unchanging objective and target. Colleagues at home and abroad are closely connected like family members, and will concentrate their efforts to provide customers with comprehensive and cross-regional solutions.
GlobalWafers will remind itself not to forget the social spirit while increasing profitability, and maintain the cycle of altruism while expanding its operating scale. Each person is a starting point of something wonderful, and the power of the enterprise can magnify care and warmth to build a sustainable and harmonious society.
Chairperson and CEO of GlobalWafers
Doris Hsu